The Sirmac East Lithium Project
The Sirmac East Lithium Project is roughly 170km northwest of Chibougamau, Quebec, and is a premier location for lithium exploration. Comprised of 12 mineral claims in 5 blocks with a total area of 656 hectares, the property is easily accessible via a network of highways and forestry roads and is located near existing infrastructure, including a 700kV power line.
The area is highly prospective for lithium hosted in spodumene-bearing pegmatites with elevated lithium results in rocks sampled on the property. The claims are contiguous with those of Vision Lithium (TSX.V:VLI), Winsome Resources (ASX:WR1) , and Troilus Gold (TSX.V:TLG).
The Sirmac East Lithium Project is located in the northeast part of the Superior geological province, in the Frotet-Evans volcano-sedimentary belt. Four lithologies are present in the project area: quartz-biotite-hornblende schists, amphibolitized flows or mafic sills, spodumene-bearing pegmatites, and a syenite pluton measuring about 6 km in diameter. The structural trend is roughly east-west.
Lithium deposits in the Frotet-Evans belt include Vision Lithium's Sirmac deposit with a historic estimate of 185,00 t at 1.4% Li2O and the Moblan Lithium Project owned by Sayone with a Mineral Resource Foreign Estimate of 12.03 Mt at 1.4% Li2O. Lithium mineralization in the region is associated with granitic, rare element-spodumene-bearing pegmatites.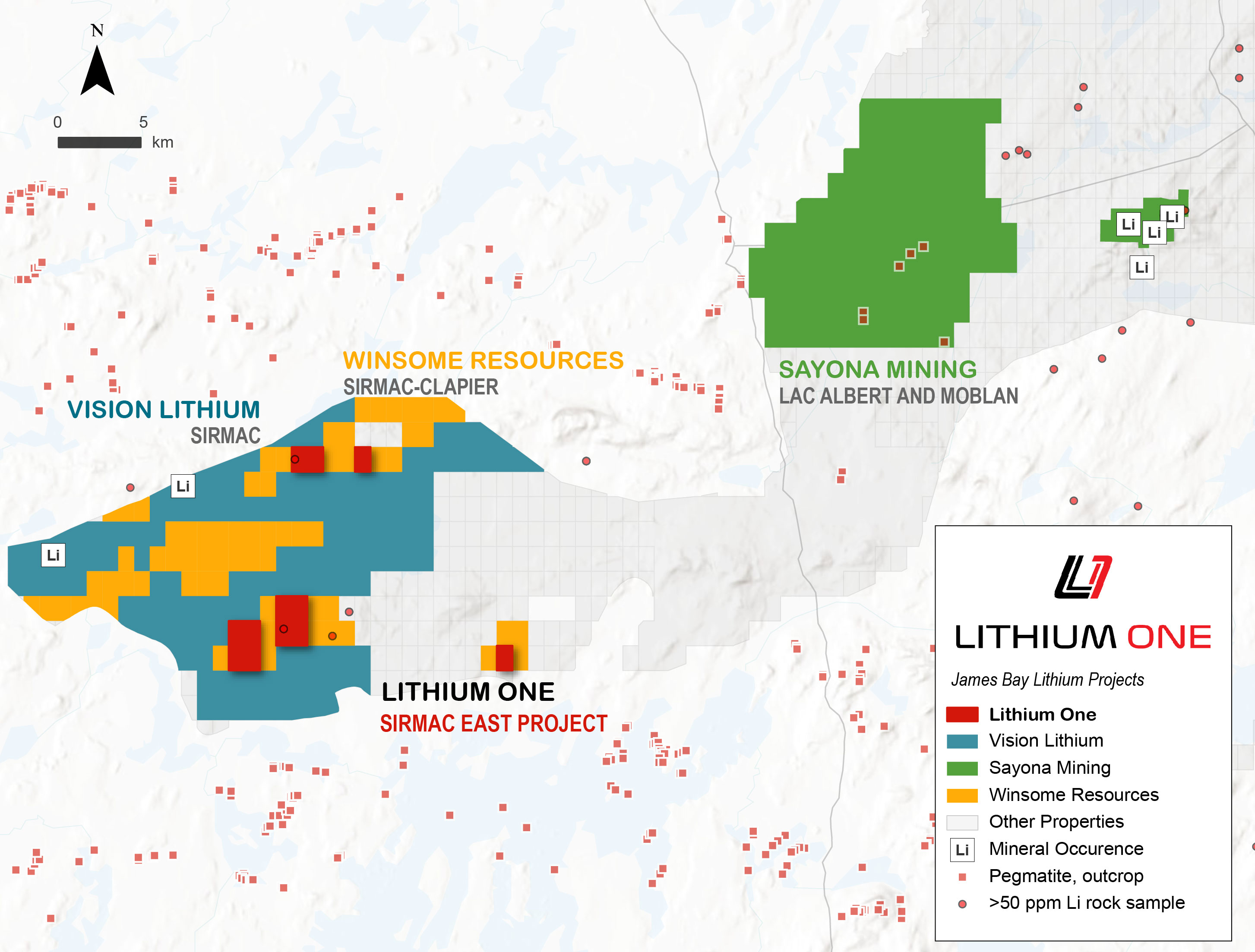 Lithium One's Sirmac East property with Vision Lithium and Troilus Gold projects in the James Bay region of Quebec.