The Cyr-Kapiwak Lithium Project
The Cyr-Kapiwak Lithium Project is located in the prolific James Bay region of Northern Quebec, approximately 100 km east of Eastman and road accessible. It Consists of four properties with a total of 42 mineral claims spanning 2,220 hectares. The project is located next to the recently approved James Bay Lithium Mine and is in the vicinity of abundant government mapped pegmatite outcrops.
The project area is underlain by the Casabiscau Suite, a collection of dykes and intrusive masses of S-type white granitic pegmatite which locally includes mapped spodumene. The Casabiscau Suite intrudes the Jolicoeur Complex which is predominantly paragneiss in the claims area. The Cyr-Kapiwak properties are located within 12 km of the contact between the Nemiscau and La Grande subprovinces. This contact underwent significant partial melting during the Kenorean orogeny which has been identified as a favourable zone for the exploration of lithium rich pegmatites (Breaks et al. 2015).
Spodumene bearing pegmatite boulders with up to 2.9% Li2O have been mapped on the northernmost property (Rock Teck Resources, Kapiwak Project Property Visit Report GM65863m October 6, 2009). The bedrock source of the lithium bearing boulders has not yet been determined.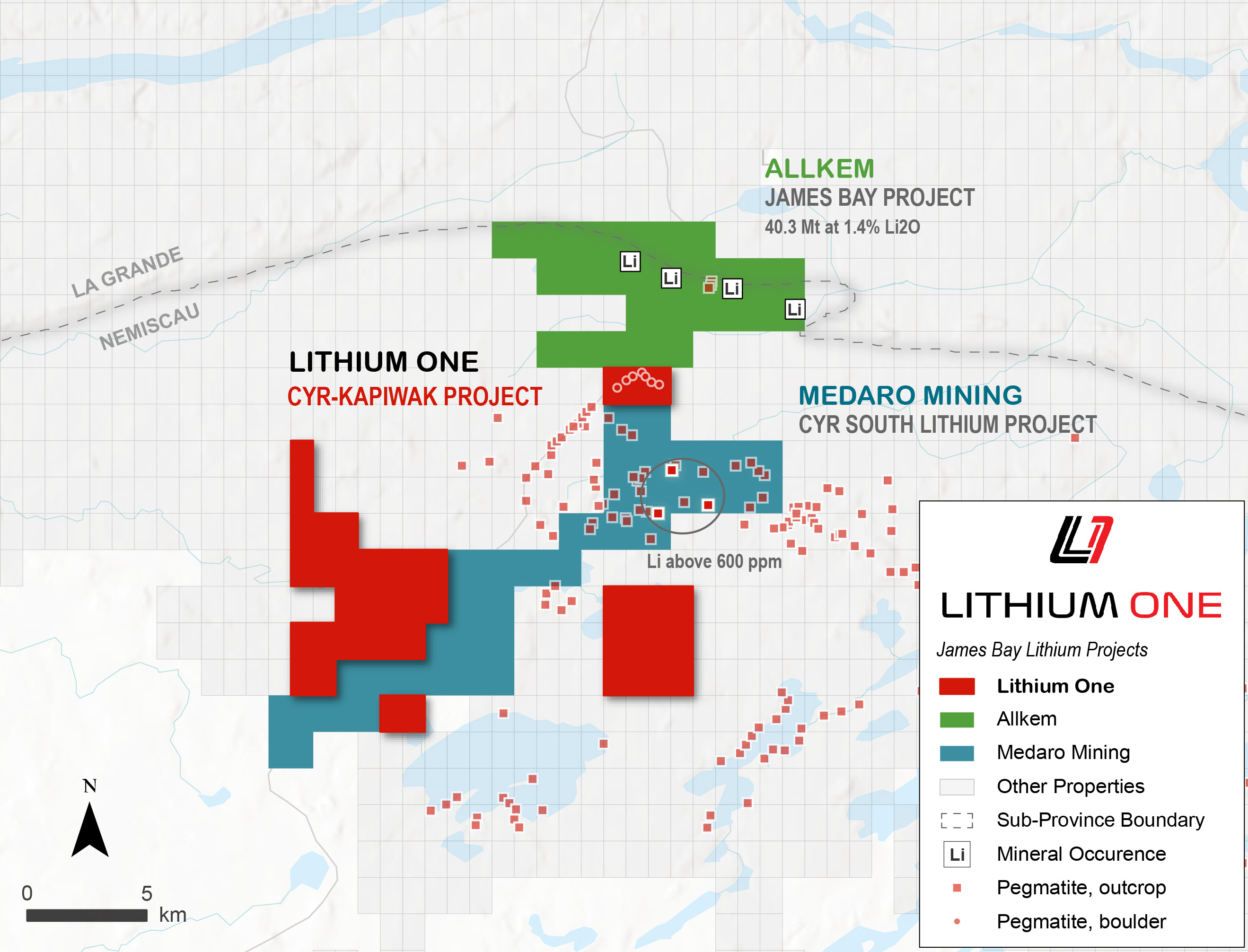 Lithium One's Cyr-Kapiwak property with Galaxy Lithium and Medaro Mining projects in the James Bay region of Quebec.